Raw vanilla drop cookies - Simply Woman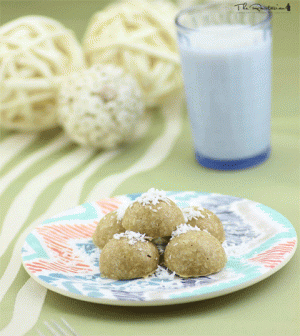 Key ingredients: coconut oil and tahini.
Prep Time
10 min
Total Time
40 min
Shelf Life
Store in freezer for 2 weeks
Servings
16 cookies

Ingredients:
2 cups dried, shredded coconut
1/2 cup tahini (sesame seed butter)
1/2 cup maple syrup (or agave nectar or honey)
1/2 cup coconut oil (liquid)
1 teaspoon pure vanilla extract (or 1 vanilla bean)
1/2 teaspoon celtic sea salt
Use Metric 8 Servings

Recipe Directions
1. Add all ingredients into large bowl except the shredded coconut.
2. Stir with spoon until well mixed.
3. Once combined, add shredded coconut. Stir again until well combined.
4. Drop cookies onto a cookie sheet. Cover and freeze for at least 30 minutes. (Cookies will harden when cooled.)
5. Store leftover raw vanilla drop cookies in freezer.

The Rawtarian's Thoughts
No equipment required! Which means less dishes to clean, which is always a good thing!
Best served cold, straight-out of the freezer because coconut oil will liquify again once warm.
This recipe makes approximately 15 drop cookies. These are super sweet and rich, so just one after dinner does a lot to satisfy that sugar fix!
Please note: the tahini is definitely the secret ingredient in this recipe. So do not try to substitute it with anything. (And do NOT use sesame seeds instead of real oily/liquidy tahini! The texture will be all screwy and not good if you do that. For realz!)
********
Laura-Jane is The Rawtarian,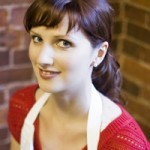 a passionate raw vegan. What is a "raw vegan?" A raw vegan is someone who eats only raw fruits, vegetables, nuts and seeds–none of which are ever heated above 105F (40.6 Celsius). That's it. Raw vegan recipes include cookies, brownies, cakes, crackers, macaroni and cheese, cheesecake, and more. All made from fruit, vegetables, seeds, and nuts. No bread products, no dairy products, just raw, natural ingredients! There is a whole movement of "raw vegans" (or "raw fooders") who invent and share creative raw food recipes. Raw vegans prepare recipes using blenders and food processors instead of ovens and microwaves! "Like" The Rawtarian on Facebook, and visit her for more great recipe ideas at therawtarian.com