Our Mission
Simply Woman is a global coalition and celebration for women's rights, needs, wants, and dreams! Our purpose is to empower, enrich and enlighten women to create their greatest lives through personal discovery, wellness, prosperity, and passion.
Our commitment to our readers is to provide quality and integral content that matters both individually and collectively.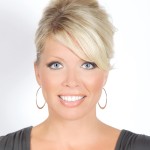 "Inside every woman is an energy of pure magnificence—an emotional space that is incredibly empowered, loving, light, joyous, confident, humble, independent, playful, open, receiving, allowing, intuitive, sensual, strong, determined, simple, honest, liberated, free, strong, compassionate and capable. When we step fully into this place, we become authentic and powerful beyond measure. We know who we are. We know what we want. We know where we're going. We are clear, concise, and uncomplicated."  —Crystal Andrus, founder of SimplyWoman.com, The SWAT Institute and 3 X Best Selling Author.