Raw almond butter fudge square recipe - Simply Woman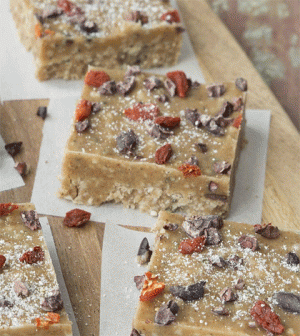 In this video, Laura-Jane The Rawtarian demonstrates how to make almond butter fudge squares. There is no equipment required for this recipe! (Just stir and freeze.)
The Rawtarian's Thoughts
No equipment required for these rich almond butter squares. Packed with protein (especially if using the hemp seed hearts), they are the perfect energy bite pick-me-ups!
The flavor of this recipe is caramel-like. These fudge-like bites are truly decadent.
For the almond butter, you can use the store bought variety or make your own almond butter with a food processor.
Since there is no equipment required for this recipe, the coconut oil needs to be in liquid form in order to be properly distributed. If your coconut oil is hard and white, simply warm it up briefly. (It will melt, similar to butter.)
These little bites should always be kept in the freezer, otherwise they will melt.
********
Laura-Jane is The Rawtarian,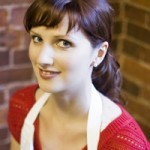 a passionate raw vegan. What is a "raw vegan?" A raw vegan is someone who eats only raw fruits, vegetables, nuts and seeds–none of which are ever heated above 105F (40.6 Celsius). That's it. Raw vegan recipes include cookies, brownies, cakes, crackers, macaroni and cheese, cheesecake, and more. All made from fruit, vegetables, seeds, and nuts. No bread products, no dairy products, just raw, natural ingredients! There is a whole movement of "raw vegans" (or "raw fooders") who invent and share creative raw food recipes. Raw vegans prepare recipes using blenders and food processors instead of ovens and microwaves! "Like" The Rawtarian on Facebook, and visit her for more great recipe ideas at therawtarian.com