Raw apple beet juice recipe - Simply Woman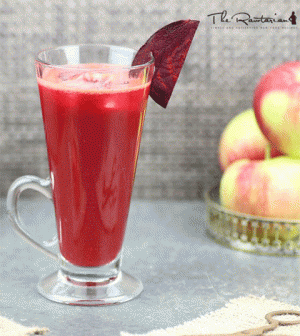 This vibrant fresh juice will keep you going all day! Beets, apples and carrots combine to make a sweet fresh drink.
Prep Time
10 min
Total Time
10 min
Shelf Life
Drink immediately
Servings
1 serving
Yield
1 serving (2 cups juice)
Ingredients
10 carrots
4 apples
2 beets
Use Metric 1 Serving
Recipe Directions
1. Wash carrots and beets. Chop off ends. (Do not peel.)
2. Juice all ingredients in your juicer.
3. Wash your juicer immediately.
4. Consume immediately!
The Rawtarian's Thoughts
I love adding beets to my fresh juices because they provide a lovely red color, a zingy flavor and they are inexpensive.
I keep a large, open bag of beets in my fridge.
Do wash your beets, but you don't have to peel them.
The juicer that I use is the Breville Juice Fountain.
Nutrition Facts
This recipe is very low in Calories, Fat, and Sodium.
This recipe is low in Carbohydrates.
This recipe provides you with 100% of your daily Vitamin A.
This recipe is a good source of Vitamin C, Vitamin B6, and Vitamin K.
This recipe is a noteworthy source of Iron, Riboflavin, and Vitamin E.
********
Laura-Jane is The Rawtarian,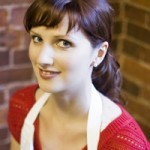 a passionate raw vegan. What is a "raw vegan?" A raw vegan is someone who eats only raw fruits, vegetables, nuts and seeds–none of which are ever heated above 105F (40.6 Celsius). That's it. Raw vegan recipes include cookies, brownies, cakes, crackers, macaroni and cheese, cheesecake, and more. All made from fruit, vegetables, seeds, and nuts. No bread products, no dairy products, just raw, natural ingredients! There is a whole movement of "raw vegans" (or "raw fooders") who invent and share creative raw food recipes. Raw vegans prepare recipes using blenders and food processors instead of ovens and microwaves! "Like" The Rawtarian on Facebook, and visit her for more great recipe ideas at therawtarian.com